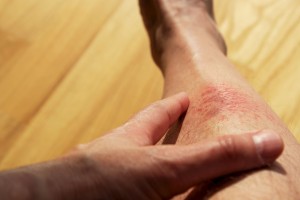 Many forms of cancer start in different organs and work their way to the skin, but the term "skin cancer" pertains to an abnormal growth of skin cells originating in the dermis or epidermis.  The skin is the human body's largest organ, sprawling and encapsulating the rest of your organs.
Why is Skin Cancer Misdiagnosed?
The skin is the most common location for cancer, with over 1 million diagnosed cases each year. The high rate of skin cancer occurrences leads to a high rate of misdiagnosis. As a result many growths are overlooked or caught after the optimal treatment time frame.
Our skin can also develop numerous benign growths, most of which are perfectly harmless. Here are a few examples:
Benign Cysts
Freckles/Moles
Lesions
Warts
Nevertheless, the signs of a benign (not cancerous) growth and a malignant (cancerous) growth share similarities that send even the most seasoned doctors running for the microscope. If you feel unsure about a growth do not be afraid to get a second opinion.
Pathologists are the most common doctors to diagnose a growth of the skin, however they are not the most accurate. Dermatopathologists and dermatologists are specially trained to recognize the minute differences in skin cells and diagnose them correctly. Understanding these differences could be life saving.
Misdiagnosed Benign Skin Conditions
Misdiagnosis at a potentially critical stage in treatment could change the tide of a patient's prognosis. Due to the expansive nature of skin cancer and its wide range of overlapping symptoms with other common conditions, misdiagnosis is all too frequent. Here are a few common skin conditions that are commonly misdiagnosed as skin cancer:
Eczema – Inflammation of the skin which causes redness and rashes
Shingles – A viral infection which causes a painful rash
Psoriasis – Chronic skin problem with white or red rashes
Lipoma – A benign tumor of fatty tissue
Ringworm – A parasite that causes red ring shaped rashes on the skin
Allergic Reaction – Example: poison ivy
Hives – An outbreak of swollen red bumps resulting from certain allergies
Benign conditions are often misdiagnosed as cancerous due to a lack of knowledge of the specific symptoms. On first glance liver spots are similar to malignant melanoma. Liver spots, unlike melanoma, are common and completely benign. If the diagnosis is based off of visual evidence alone, or the patient is not referred to a specialist for a second opinion, misdiagnosis can occur.
How to Avoid Misdiagnosis
Patients can decrease their chances of skin growth misdiagnosis by taking some additional measures. Here are some important things you should ask your doctor if you are concerned about a skin growth:
When in doubt, see a board-certified doctor
Do not be afraid to get a second opinion
If you still have doubts, see a specialist (i.e. dermatologist)
Frequent Doctor Visits
Vigilance for changes to your skin
Wearing sunscreen and avoiding UV rays
Surgical Treatments for Skin Complications
Preventative measures are a crucial step in protecting your skin. When preventative measures are not enough, the next step in treatment is provided by surgical procedures. Most procedures are straightforward. Surgeons only need local anesthetic and use small incisions to remove the affected area. Call to set up your appointment today – (651) 224.1347.