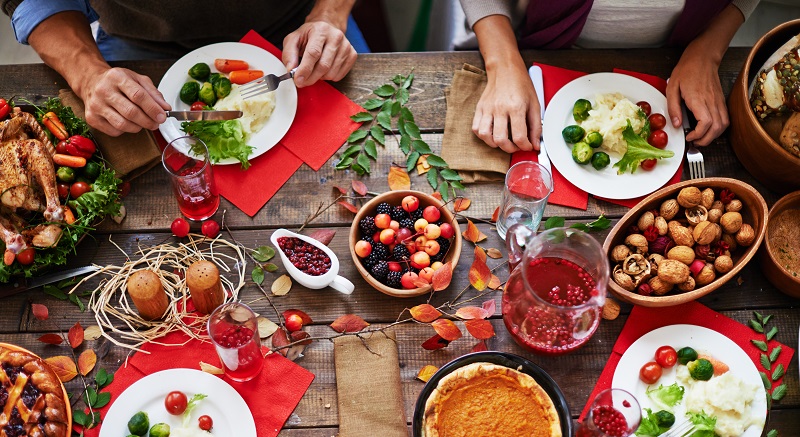 The holiday season has arrived, and while the season can bring plenty of joy, for patients with acid reflux and gastroesophageal reflux disease, the holidays can also bring discomfort and pain due to their conditions. During the holiday season, we tend to have more opportunities to snack on seasonal treats or indulge at holiday events, and these dietary changes can trigger reflux symptoms. In today's blog, we share some tips for navigating the holiday season if you have GERD or acid reflux.
Avoiding GERD Problems During The Holiday Season
The good news for patients with GERD or acid reflux is that they don't need to make significant changes to their daily life if they are already taking steps to keep their condition under control. For example, if you already eat more smaller meals instead of a few large meals, keep it up. It may be harder to portion control if you're at a large holiday get-together, but overeating is a classic reflux trigger, so keep you portions in check. Other tips to keep in mind include:
Stay Away From Holiday Trigger Foods – As we mentioned in this post last year, certain holiday foods can trigger reflux symptoms. Learn more in our expanded post, but holiday favorites like chocolate, peppermint and alcohol can all relax your esophageal sphincter, making it easier for stomach acid to make its way back up into your esophageal canal. Consume these options in moderation or avoid them altogether.
Avoid Foods Before Bed – You also may have more opportunities to snack later in the evening during the holiday season, but like any other time of the year, try to avoid eating at least an hour or two before bed. When you're lying down, stomach acid can more easily make its way into your esophageal canal, so it's best to try to go to bed without a full stomach. Do your best to limit late night eating.
Drink Plenty of Water – Certain foods and beverages relax the esophageal sphincter, but water can help to clear these foods and liquids from your esophagus and help it keep a healthy seal. Instead of hot chocolate and eggnog, mix in plenty of water during the holiday season.
Have Antacids Ready – If you know you're going to have a lot of food options to choose from at a family Christmas or a holiday work party, bring the antacids along. If you take prescription medication for your condition, make sure you have a supply that will get your through the holiday season without issue.
Enjoy – Finally, while you need to be careful about overdoing it, reward yourself and indulge here or there. After all, the holiday season isn't as enjoyable if you're scrutinizing over every food choice. Treat yourself every once in a while and see how your body responds. You may learn more about which foods your body handles well and which ones you should stay away from, so don't force yourself to stay away from all the holiday goodies.
If you want help managing your GERD this holiday season and beyond, reach out to Dr. Koeplin's office today.