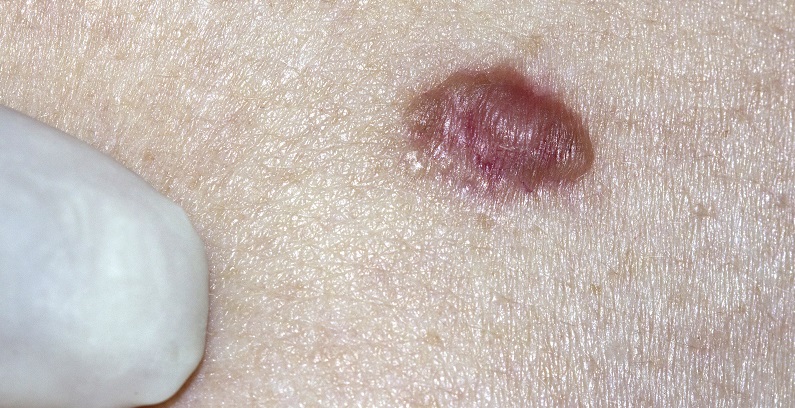 Skin cancer comes in many forms, one of which is known as basal cell carcinoma. This type of cancer develops in the basal cells, which are responsible for producing new skin cells when the old ones die off. They tend to develop as a result of long-term exposure to ultraviolet radiation, and typically form in areas that get a lot of sunlight, like on your head, neck and shoulders. Below, we take a closer look at how this type of skin cancer is treated.
Signs of Basal Cell Carcinoma
Basal cell carcinomas can take many different forms and vary greatly in appearance from person to person, so it's important to know what signs to look for. If you're concerned about a new growth, it's best to have it examined by a skin cancer specialist like Dr. Koeplin, but some forms the cancer takes include:
White/Pink/Skin Colored – These pink or pearly white bumps may also be somewhat translucent, allowing you to see through the surface. Sometimes tiny blood vessels are also visible. The growth may also break open, bleed or scab over. This is the most common type of basal cell carcinoma, and oftentimes it develops on a person's face or ears.
Brown/Black/Blue – Basal cell carcinoma can also take on a darker appearance with a black or blue lesion with dark spots. Oftentimes these growths have a translucent border.
Scaly and Red – Another form of basal cell carcinoma is red and scaly. These tend to have a raised edge and may continue to get larger over time. They tend to be more common on a person's back or chest.
Waxy White – A final form known as morpheaform basal cell carcinoma can appear white and waxy, similar to how a scar sometimes appears.
If you notice any bumps that fit the above descriptions, have them looked at by a skin specialist.
Treatment of Basal Cell Carcinoma
A diagnosis is typically made with a skin biopsy, and if it confirms basal cell carcinoma, your doctor will walk you through the treatment options. The main goal of treatment is to fully and completely remove the growth, and the most common way to do this is with surgery. Other options may be pursued depending on the size and location of the growth.
During surgery, Dr. Koeplin or your skin cancer surgeon will carefully cut around the basal cell carcinoma to remove it and a little healthy tissue around it. The surgeon will ensure that all the cells have been removed and that only healthy skin cells remain in the area. They can do this by performing a surgical excision, or through a technique called Mohs surgery that removes the cancer layer by layer until no abnormal cells remain.
If surgery isn't an option or you want to pursue other forms of treatment, the doctor may recommend one of the following treatments:
Radiation therapy
Curettage and Electrodessication
Freezing
Topical creams
Photodynamic therapy
When caught early, basal cell carcinoma treatment has high success rates. So if you have a lesion that is growing or causing concern, reach out to Dr. Koeplin's office today to have it examined by a professional.